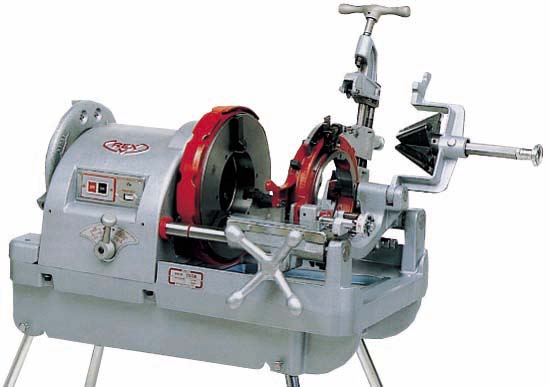 REX threading machine N150A
€ 13.097,-
This is our brut price for 2020. Please, send us an inquiry to receive your final net price.
N150A: A large- diameter threading machine!
Uses condenser motor for quiet operation;
The efficient 2- speed transmission speeds up work;
Powerful hammer chuck holds large-diameter pipes securely;
Uses notch profiling die head, suitable for threading large- diameter pipes;
The notch profiling die head has low cutting resistance for optimum threading of large- diameter pipes;
Threading size, thread length and microfine adjustment of thread diameter can all be adjusted easiliy.
REX threading machine N150A
Capacity 2 ½" – 6" – Large diameter threading machine
Condener motor machine, 2 speed 22 – 13 rpm, weight 170 kg
Profiling die head 2½"-4" and Profiling die head 5"-6"
Thread size, thread length and microfine adjustment
Article number 854500040
Specification
Rex threading machine N150A
2½"-6", Profiling die head
Profiling die head 2½"-4" and 5"-6"
Input 750W (condenser motor low noice)
13 – 22 (rotation speed unloaded)
930x(L) x 688(W) x 590(H)
Case hex key wrenches, dies 2½"-4", 5"-6"